Mario Zagallo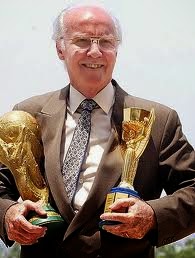 Mario Zagallo has a unique place in World Cup history – the only man to have been associated with four World Cup winning teams.
In Brazil, he is a legend. During his time as a player he was part of the Brazilian team who lifted the World Cup in 1958 and 1962. Zagallo then coached the 1970 side to another glorious victory. He completed his unique achievement as assistant coach in 1994.
The great Brazilian's fingerprints are indelibly stamped across his country's World Cup history, and therefore stamped across the finest World Cup history there is. His first winner's medal came as part of the famous Brazil side of 1958. Pelé scored twice in the 5-2 victory over Sweden and Zagallo marked the final with a goal of his own. Four years later he collected his second medal, but unlike most sporting stories reaching the pinnacle of his profession is only the beginning of Zagallo's tale.
In 1970, and with his tenure at Botafogo over, Zagallo returned to the most coveted and pressurised managerial job in Brazil if not world football. True to form he won the World Cup the same year, with his tactical astuteness and attention to detail proving to be vital in Brazil's success in Mexico.
During the 80s and 90s period Brazilian football went into hibernation as the glories of '58, '62 and '70 faded into the ether. They hadn't been beyond the semi-final since that night in Mexico City and would once more call upon Zagallo's expertise in 1994. Zagallo returned in America like a great time traveller arriving to impart forgotten knowledge of how to win upon lesser football minds. Carlos Alberto Parreira was the man in charge and turned to Zagallo as his assistant. In a more structured Brazil side – with Dunga patrolling the midfield but with sprinkles of gold dust in Romário and Bebeto – Samba football would again reign supreme. Having played out a goalless 120 minutes with Italy in the final Roberto Baggio stepped up to take a penalty to keep the Azzuri's hopes alive. Italy's player of the tournament skied his attempt and handed Brazil their record fourth title. Staggeringly, Zagallo had collected a medal in all of them. Despite being the assistant manager, Zagallo's influence is well documented within the 1994 team. The World Cup victory led to a renaissance in Brazilian football, which Zagallo would be at the helm of for the proceeding four years.

With so much experience, Zagallo is his own man and does not bow to public opinion. Although the Brazilian public wants their team to win in style, Zagallo just wants to win.
As a player his tenacity and never-say-die spirit earned him the nickname Formiguinha (little ant). Zagallo expects nothing less of his current players. However talented, they must be seen to work hard and not just look good on the ball. His work ethic may be rewarded with an unprecedented fifth World Cup crown.
Franz Beckenbauer
His World Cup career started in 1966 when West Germany lost to England at Wembley in the final with Beckenbauer in an unusual midfield position marking Bobby Charlton. Kaiser Franz scored four goals in that World Cup which introduced him to the world audience.
In Mexico 1970, Beckenbauer is most remembered for playing on with an obvious shoulder injury in the classic 4-3 semifinal defeat to Italy. Heavily strapped he refused to be sustituted and battled throughout the full 120 minutes only to see his side lose the close contest. A win in the bronzematch over Uruguay was some consolation.
His third and last World Cup was hosted by his own country in 1974. West Germany and Kaiser Franz peaked at the right time and won the whole thing. The memorable final win against Holland
and Johan Cruyff was of course the highlight. The triumph in Munich meant that Beckenbauer – as one of only two players in World Cup history (Wolfgang Overath the other) – had the complete collection of medals at the World Cup (Gold, silver, bronze).
Beckenbauer took over as coach for the German national team in 1984 and guided them to the final in 1986 and to the title in his last match in charge in 1990 against Argentina. It made him the first man to captain and coach a World Cup winning side.